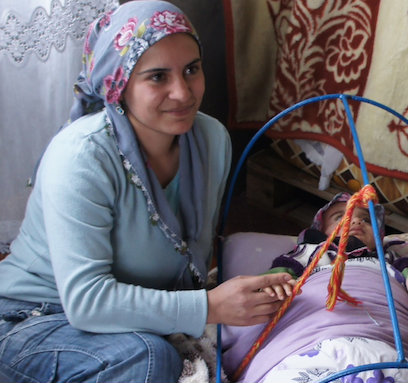 Happy Mother's Day!
My name is Şerife. I am a 19-year-old working mother of two beautiful children. Turkish Philanthropy Funds has helped me become the mother I want to be through its financial aid. This Mother's Day, your gift will help moms like me support their families and live independent, fulfilling lives. 
For the past two years I've taken advantage of an amazing opportunity to learn the trade of kilim weaving. Each day, I arrive at the workshop ready to create beautiful works of art for clients around the world. With the other girls in the workshop, we share stories, cook and form lifelong friendships. A large portion of our day is dedicated to our schooling and learning to read and write. I've never attended a school, but now I am completely literate.
The ability to support your family, which in my case, includes extended family, is an amazing feeling. I stride through life with a sense of purpose, feeling independent. I no longer have to ask my husband for money to buy clothes for my baby or anything else. Each kilim I weave and each lesson I learn is for my newborn daughter, women and mothers all over Turkey, who don't have the same opportunity I do.
Funding from Turkish Philanthropy Funds is essential to grow the kilim weaving workshops run by Hisar Anadolu Destek Derneği (Hisar Anatolian Support Society). Within three years, TPF has given HADD $80,500, enough to build and operate two workshops. With your help, we have the ability to reach more women and mothers who share my dream.
Please join me in supporting the remarkable work TPF Team does in providing opportunities to women and girls in Turkey every day.
Sincerely,
Şerife
Lend us your Tweet! Use #thanksmom on Twitter and on Facebook to honor your own mom.
TPF visits HADD workshops:
President & CEO, Ozlenen Kalav visits for the opening of the TPF workshop
TPF visits Van in April 2013